Madhya Pradesh Tiger And Hill Tour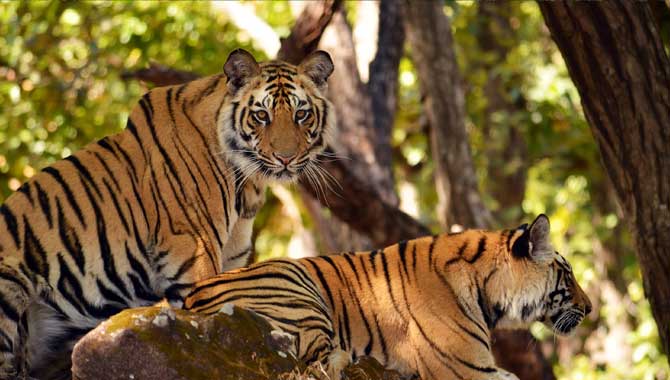 Itinerary
Day 1 - Jabalpur to Bandhavgarh (197 kms, 4 hours by road)
Upon arrival at Jabalpur, you will be escorted to Bandhavgrah. You will be checked-in into the hotel, where you can relax for the rest of the day and prepare yourself for an enthralling journey ahead; overnight stay at the hotel.
Day 2 - Bandhvgarh
Bandhvgarh National Park, Tigers, Leopards, Deer, Jackal, Hyena
Enjoy an entire day Game Safari in the Bandhvgarh National Park and behold the astounding sights of its prismatic wildlife. Avail the Safaris in the quest for the majestic tigers resting at the banks of the water pool and the ferocious leopard. Also spot the Sambar, Spotted and the Barking deer along with the golden oriole and many other species. You can also spot Jackals, Hares, Hyenas and Wild Cats on the way back to the hotel; overnight stay at the hotel.
Day 3 - Jabalpur – Bhedaghat – Jabalpur (Each way 25 kms, 30 minutes by road)
Narmada River, Dhuandar Falls, Marble Cliffs, Misty Ambience
After having breakfast in the hotel, you will be transferred to Jabalpur. While in Jabalpur, you cannot afford to miss out Bhedaghat, the abode of Narmada River, Dhuandar Falls and some of the glossy marble cliffs. It is in this town, you can witness the sunrays casting a magical spell on the entire valley and creating mesmeric outlook! Visit the Dhuandar Falls, where the gushing waters falling from an outstanding height creates a misty panorama of the region. Return to the hotel in Jabalpur for an overnight stay.
Day 4 - Jabalpur to Pachmarhi (240 kms, 5 hours by road)
Satpura Range, Queen of Satpura, Panoramic Views
Post breakfast, drive to Pachmarhi, popularly known as 'Satpura ki Rani' (Queen of Satpura) and explore the lush and verdant essence of Madhya Pradesh. A spectacular hill resort, Panchmari is well guarded by the Satpura Range and offers a placid environment to relax and retreat the mind and soul; overnight stay will be at a luxurious hotel in Pachamari.
Day 5 - Pachmarhi
Gypsy Safari, Pandav Caves, Echo Point, Dhupgarh, Duchess Falls
After the breakfast, head on to the Gypsy Safari tour for the rest of the day. While on this safari, you will be visiting the Pandav Caves, Apsara Vihar, Chouragarh, Echo Point, Duchess Fall, Reechgarh, Sangam, Dhupgarh and several other tourist spots. With the advent of the evening, you will be guided back to the hotel for an overnight stay.
Day 6 - Pachmarhi to Jabalpur
Tour Ends Here
After the breakfast, it will be time to check-out from the hotel and wish adieu to the warm and welcoming Pachmarhi. Here onwards, you will be transferred to Jabalpur; with your arrival, this lively and delightful tour will come to an end.